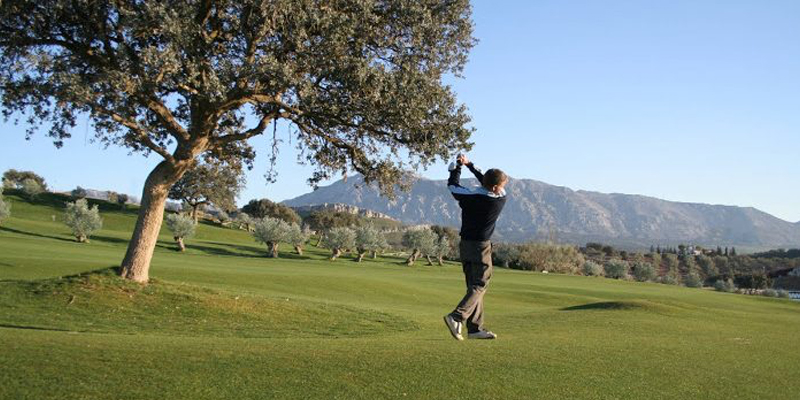 Antequera Golf
Antequera Golf has an element in its design that is ideal for decoration as well as important to strcture the streest: the lakes. These also allows environmental care, since they collect rain water used to irrigate the field throughout the year.
Currently Antequera Golf has 18 artificial lakes interconnected. Each pitch Street has been designed to delight of golfers.
Thus we have the 3rd hole, a short par four of 295 meters but with a lake in front of it, creating an easy but very technical street art at the time to play it. The 6th hole, a par three with a tee on top from which you can see three different counties and all Antequerana Vega. The green on this hole is located approximately 140 meters away with a free fall of about 40 meters. This par three is spectacular.
The 13th hole is completely unique in designing golf courses. It has two lakes right in front of the tee professionals, lake and a half in front of the tee of amateurs and a lake to the right to the tee amaterurs women and youth. Then there is a landing area for the ball and the second shot to the green is about 120 meters in front of the green but there is another lake.
The green is well designed with a drop, drops and bunkers around to give a unique touch. The player will appreciate the beauty achieved in this street which is safe in mouth Andalusian golfers soon. Some for their beauty, others for its authenticity, others because of its difficulty and others for their technicality making comments such players Antequera Golf 13th hole mean that is unique. Equally remarkable is the 15th hole at the foot of the Sierra de la Magdalena.
Besides the golf course with lighted practice track, there is clubhouse with restaurant and cafeteria, shop, locker rooms, and everything necessary for the enjoyment of golfers in Antequera.
---
Contact Details
Antequera Golf
Urb Santa Catalina s/n,
Antequera, Málaga
Tel.: (+34) 951 060 354
Tel Alt: (+34) 902 54 15 40
Fax: (+34) 952 937 765