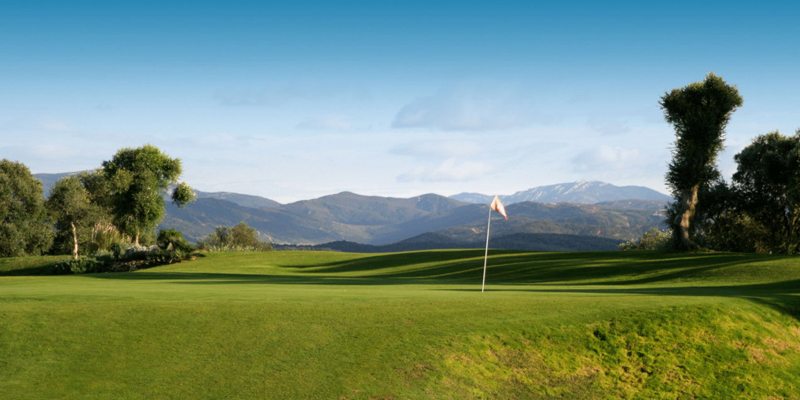 Benalup Golf
Benalup Golf  is situated in a unique environment with stunning views over the La Janda valley and the Los Alcornocales natural park. One of the best courses in the region and playing there guarantees you a pleasurable experience. Despite it often being referred to as an 'exclusive' club, it's still reasonably affordable. Benalup Golf take a very limited number of players per day in a pleasant atmosphere on a course where nothing is left to chance.
The par-73 Benalup Golf Course, which includes five par-5's, is the result of a collaboration between a number of professionals, designed by the architect Baron Paul Rolin, a former partner of Robert Tent Jones.
The result is a natural yet very technical course, which offers great variety, so there's something to suit every type of player. Benalup Golf provides a unique all-inclusive green fee, which includes breakfast, on-course refreshments, a 3-course lunch and drinks.
The 6104m natural course with various lakes is a real challenge for all types of players and those with lower handicaps are certain to enjoy the technical challenge whilst playing from the back tees.
The greens are large and on some holes quite undulated. The course can be qualified as flat, with abundant trees and several water hazards integrated in the course's design play – an important role in the game's strategy.
Facilities:
Clubhouse with restaurant and bar offering breathtaking views, golf shop, cloakrooms, driving range both on natural and artificial grass, putting and pitching green, caddy master and club storage.
Requirements
Handicap Limit: 36 Soft spikes only
---
Contact Details
Benalup Golf & Country Club
Calle La Torre s/n,
11190 Benalup-Casas Viejas
Tel.: (+34) 956 42 49 28
Fax: (+34) 956 42 49 29
info@benalupgolf.com
www.benalupgolf.com