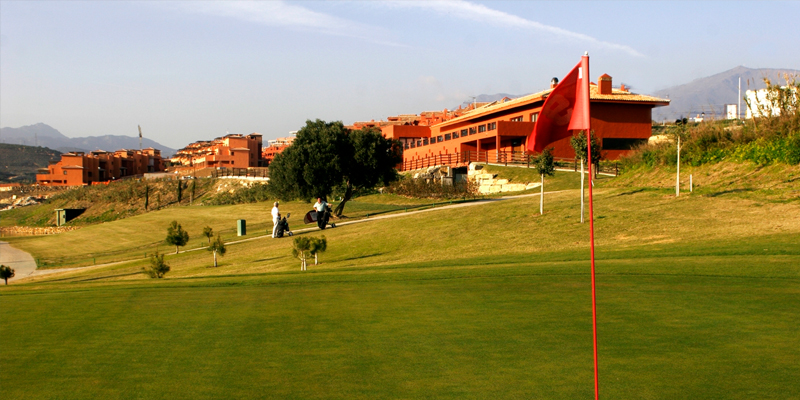 Casares Golf
Casares Golf Course was designed not only to cater for the avid golfer, but to entertain them too – and this it does extremely successfully.
Its nine holes are spread out with a varied design over the flat terrain of a valley and stand out for their fairways, on which precision is one of the keys to a good game. With three par 3's and one par 5, the course offers golfers the possibility of playing a wide range of shots.
The course is not overly long – the par 5, 7th is the longest at 472 m, whereas the 4th hole is the shortest.
Perhaps the most scenic hole of the course, and possibly one of the prettiest of the Costa del Sol, is the 8th, as acknowledged by the majority of the Club's members. This may be due to the fact that it is a hole for recovery – it measures 298 metres, is completely straight and the green is surrounded by lush vegetation. The stylish clubhouse provides the perfect place to relax, whether you choose to unwind in the bar, or out on the sun-drenched terrace.
HANDY HINTS:
Toughest hole: The par 57th demands a long and straight drive if attempting to hit the green in 2. Be aware of the water in front of the green – this adds some difficulty of the hole.
Best Par 3: The 4th hole. It's only 100 metres in size but the tee is raised over 80 feet above the green, which can make club selection interesting… Too short or too long and you're in the water.
Facilities
Buggies, trolleys, electric trolleys, pro shop, clubhouse, restaurant and driving range.
Requirements
Handicap Limit: Men 28, Ladies 36 Soft spikes only.
Contact Details
Casares Costa Golf
Ctra. Casares, km 0,7
29690 Casares – Malaga
Tel.: (+34) 952 937 895
Fax: (+34) 952 937 765
info@casarescostagolf.com.es
www.casarescostagolf.com.es
---