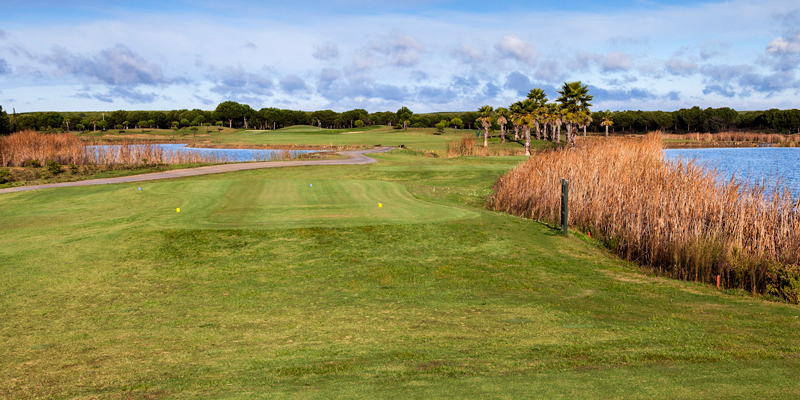 La Monacilla Golf
The Monacilla Golf was designed by D. José María Olazábal .
About Jose Maria Olazabal, by D. Robert Green, Managing Editor of Golf International, Web page text of Olazabal Golf Design. (Www.olazabaldesign.com) 
Born February 5, 1966 in Fuenterrabia, Spain, Jose Maria Olazabal grew golf course green keeper's son Real Golf Club de San Sebastian. He started playing at 4 years. As an amateur and an unprecedented achievement, Olazabal won titles Brithish Boys, Youths and Amateur in successive years, before becoming a professional player in 1985.
He got his first two European Tour titles in 1986, debuted at the Ryder Cup in 1987 at 21, and played a crucial role alongside his compatriot Seve Ballesteros, Europe's first victory on American soil in the history of the competition .Olazabal won his first tournament in the United States in 1990, after winning the World Series of Golf held in Akron, Ohio, with the striking difference of 12 strokes over second place. In 1994 he won his first "major", the U.S. Masters.
A Olazabal is known as "Chema", and in those years seemed to have the golfing world at his feet. But he also felt he had a world in them. At the end of the 1994 season, the recurring pain in his feet began to be felt even more. She was diagnosed with rheumatoid arthritis. Throughout 1996 and with a pain so unbearable that Olazabal could barely walk, he feared having a disease that had no cure. But in the fall of 1996, was put into the hands of a well-known physician, Dr. Hans-Wilhelm Müller Wohlfahrt, and began to hope a new treatment. In the spring of 1997 began to play again, and in her third tournament, the Masters Tourespaña Canary Islands, got one of the most amazing rounds of golf history, winning the championship. Later that same year, he returned to become one of the most important figures of the European team for the Ryder Cup, this time in his native Spain.
The biggest win of Olazabal, at least to this point in his career came in April 1999, when he won for the second time the U.S. Masters. Following these achievements, the Golf Writers Association of America awarded him the Ben Hogan Award in recognition of his amazing recovery from his illness. Later, in the 2000 USPGA Championship at Valhalla, tied the record for lowest round, 63 strokes in a "major". From there he won two tournaments on the European Tour. In successive years was proclaimed winner of four tournaments in the U.S., Europe and Asia (2001.2002 and 2005), accumulating a total of 33 professional tournament victories worldwide. In 2006, he played the Ryder Cup in his seventh appearance in the European team, (K Club, Ireland), winning all three games of the three who played, thus contributing to the trophy to stay in Europe. In 2009, at age 43, was elected to the prestigious World Golf Hall of Fame.
Finally, and most large, having been vice-captain of the Ryder Cup in 2008 and 2010, was elected in 2012 as captain of the European team that won in Chicago. His team had just obtained a score of 10-6 in the first two days, before the individual, but in the last day, against any prognosis or chance, managed to win eight games and drawing one, retaining the trophy for Europe, and achieving what is probably the greatest day in the history of the European team in Ryder Cup An achievement that both Olazabal as his team was dedicated to the memory of Seve, who died in May 2011. In their own words, and in terms of positioning in his career, "this has been the number one accomplishment."
---
Contact Details
La Moncilla Golf
Construction of Monacilla
the Pyrenees Ave S / N
21122 Aljaraque – Huelva.
Tel.: (+34) 959 100 093
info@lamoncillagolf.com
www.lamoncillagolf.com
---