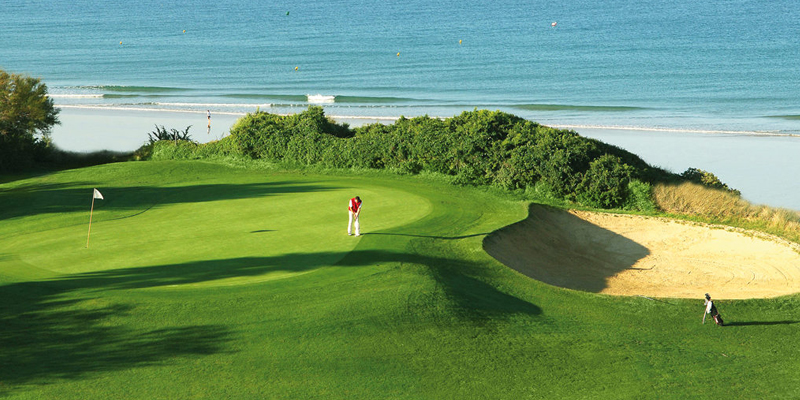 Novo Sancti Petri Golf
Novo Sancti Petri is a charming 54 hole golf resort perched next to the stunning La Barrosa beach. Thanks to the area's mild climate, it's now considered one of the best year-round holiday destinations in Spain, especially for lovers of golf.
Set in an area of 170 hectares, its three golf courses are surrounded by a picturesque resort. There are number of water hazards to watch out for, as well as pine, cork and olive trees, juniper and carob bushes, greens heavily guarded with bunkers and of course, the Atlantic sea breeze. However, all of which are certain to add pleasant challenges to your game.
The two 18 hole golf courses (A and B) were designed by the late world famous Spanish golf professional Severiano Ballesteros, whilst Campano, situated just 8 km from the beach was designed by internationally renowned golf architect Bryan Griffiths.
HANDY HINTS:
Course A: "Mar-Pinos" is made up of four Par 3 ́s, 10 Par 4 ́s and 4 Par 5 ́s. The first nine have wide fairways and three water hazards. The second nine are set in amongst the pine trees.
Course B: "Centro" is made up of six Par 3 ́s, six Par 4 ́s and six Par 5 ́s. The first nine holes are flat, with a lake between holes 5, 8 and 9.
Course C: "Campano". The first nine holes are similar to those of British parkland, requiring long and straight shots. The back nine has three large lakes and large undulating greens.
Facilities
Driving range, chipping and putting greens, clubhouse, restaurants, PGA Golf Academy Novo Sancti Petri
Requirements
Handicap Limit: 36 Soft spikes only
Contact Details
Club de Golf Novo Sancti Petri
Urb. Novo Sancti Petri,
Casa Club Playa de la Barrosa
11130 Chiclana. Cádiz
Tel.: (+34) 956 494 005
Fax: (+34) 956 494 350
info@golf-novosancti.es
www.golf-novosancti.es