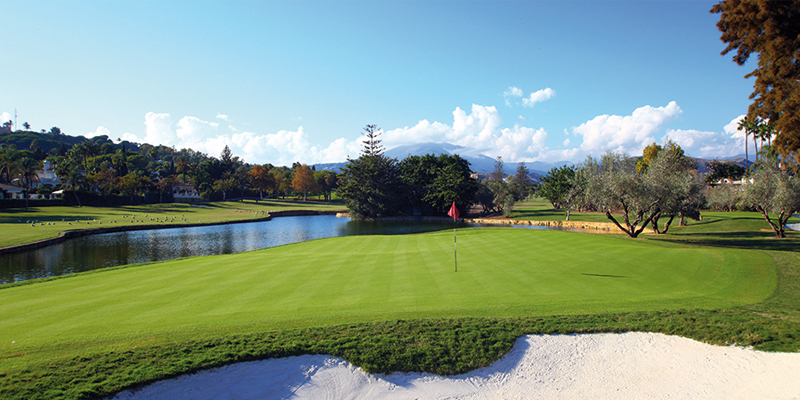 Real Club de Golf Las Brisas
Founded by D. José Banús in 1968, Real Club de Golf Las Brisas golf course is the private club of choice for those who like to add a touch of class to their golfing experience on the Costa del Sol. Boasting a warm and inviting social environment, the club's main focus is to provide excellent service, well maintained Facilities:, exquisite dining and a variety of social events exclusively for members and their guests.
Designed by Robert Trent Jones Senior, every hole at Real Club de Golf Las Brisas has been created not only to please the eye but to provide a challenge for even the most experienced player. Numerous water hazards and prudent bunkering combined with subtle dog-legs, mean careful planning and good shot making are required.
Flora and fauna perfectly complement the golf course's design and harmonious landscaping, created by Englishman Gerald Huggan. Much like a botanical garden, plants and trees from all the continents of the world fill the course with imagination and colour. Here you'll find rare species from Africa, Asia, America, Mexico and Australia combined with numerous palms and Mediterranean trees.
Facilities:
Buggies, driving range, putting green, golf lessons, clubhouse, pro shop, restaurant, bar and sauna.
Requirements
Handicap Limit: Men 24, ladies 32 – soft spikes only
Contact Details
Real Club de Golf Las Brisas
Apdo. de Correos no 147
29660 Nueva Andalucía
Tel.: (+34) 952 813 021
Fax: (+34) 952 815 518
info@realclubdegolflasbrisas.com
www.realclubdegolflasbrisas.com
---