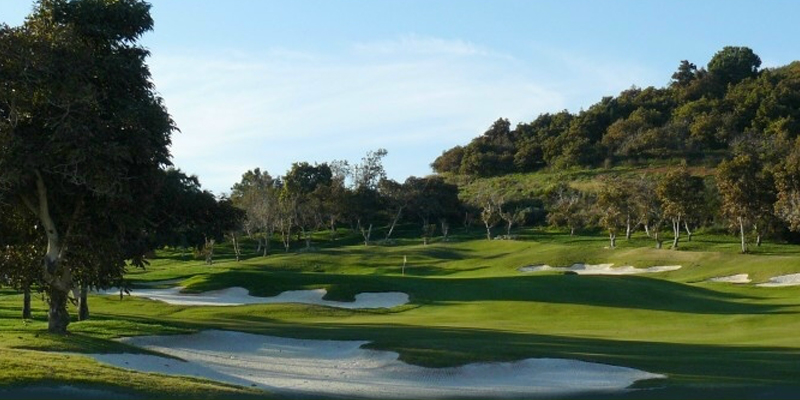 Santana Golf & Country Club
Formerly an avocado plantation, Santana Golf is set in 138 acres of picturesque parkland that has been sympathetically laid out by the architect Cabell B. Robinson. The result is a magnificent course with wide and well defined fairways on level terrain where water features play an important but not excessive part in the overall design.
Wide and well manicured putting greens are surrounded by strategically placed bunkers with crushed marble sand. Technically speaking, Santana Golf is a demanding course as the unique design of each hole is intended to give a continuous challenge, even for the more experienced player. It is clear that Cabell B. Robinson has opened a jar of exquisite essences, designing a spectacular and aesthetically superb layout.
HANDY HINTS:
Signature hole: 4th. Excellent use of the natural features has been made on this very challenging par-5 hole. Keep left to avoid the bunkers, aim second shot towards the right and hit third shot into the putting surface.
A true test for a championship golfer comes in the form of the 10th.
The second nine opens with a par-5 and a generous fairway with overwhelming scenic beauty. Play right of the bunker followed by a long iron short of the lake. The receptive long green is defended by bunkers.
Facilities:
Buggies, putting green, clubhouse and restaurant.
Requirements
Handicap Limit: Men 28, ladies 34 – soft spikes only.
---
Contact Details
Santana Golf & Country Club
Ctr. La Cala-Entrerrios, s/n
Valle del Golf de Mijas
29649 Mijas Costa, Málaga
Tel.: (+34) 951 062 560
Fax: (+34) 951 062 562
info@santanagolf.com
www.santanagolf.com
---