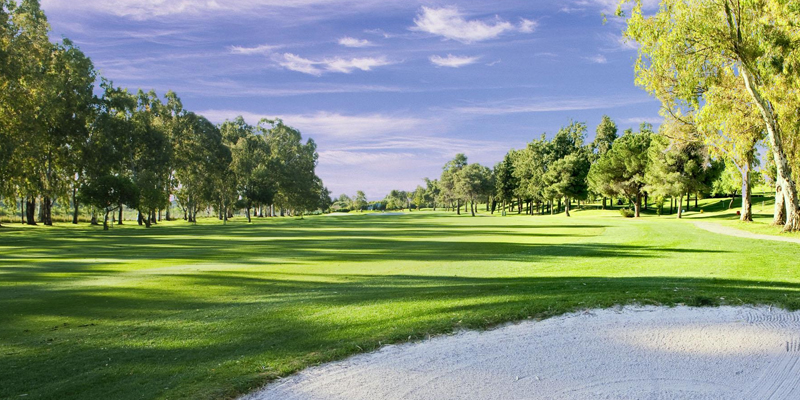 Atalaya Golf & Country Club
There are two main golf courses at Atalaya Golf – two great reasons to play here. The first was created in back in 1968 and was designed by 1925 German Golf Champion, Bernard von Limburger who became his country's finest golf course architect of the time. With wide fairways and large elevated greens, this championship course provides the perfect challenge to golfers of all levels.
Elegant and mature with spectacular views of Marbella's majestic La Concha Mountain, it is an idyllic oasis of tranquillity on the otherwise bustling and vibrant Costa del Sol. Its apparently benign parkland aspect with gently sloping fairways makes it an ideal course for the average club golfer – but plentiful bunkers filled with sparkling 'marmolina' sand, fast greens, lush vegetation and fairways lined with olive, pine, cactus and eucalyptus trees prove a challenge for single-figure players as well.
Female professional golfer, Azahara Muñoz can often be spotted achieving a hole-in-one at the new Atalaya course – a 3,500 m2 short game area designed by Craig Cook, former design assistant of Robert Trent Jones – and roofed tee at the driving range. This area was recently opened for professionals and their pupils. Azahara has trained at Atalaya for over 11 years with her personal golf coach Fernando Vega Cabeza (Professional of the Atalaya Golf Academy).
Classed as one of the coast's most natural golf courses, Atalaya New Course offers spectacular views of the Mediterranean and Gibraltar. Created in 1990 by Paul Krings, the course is set further inland, but has a similar parkland feel about it – with gently undulating fairways and large, fast greens.
The New Course is rapidly catching up with the Old in terms of quality and in the summer months there are great bargains to be had for the holiday golfer. Atalaya Golf and Country Club International also offers excellent practice Facilities:, including a spacious driving range, six short game areas and three putting greens.
HANDY HINTS:
There are plenty of scoring opportunities on the Atalaya New Course, with a solid mix of holes and lengths.
In general, the hazards are fairly obvious but still manage to trap the unwary. Care is needed off the tees and the wild hitter will soon encounter difficulties.
Two of the best par 3's you will come across on any golf course are the 4th – teeing off with a mid-iron from a raised platform over the lake – and the 13th, a long iron or wood to a two tiered green with a steep bank on the left. Par on either of these exceptional holes is a good score.
The long par 5 finishing hole will either make or break your score.
Fancy more handy tips?  Well you're in luck. There is a Full Course Guide Here presented by Garry Corkish,.Teaching and talking you through all the holes at Atalaya Golf.
Facilities
Buggies, trolleys, electric trolleys, driving range, practice areas, golf lessons, kiosk, clubhouse, restaurant and bar
Requirements
Handicap Limit: Men 28, Ladies 36 Soft spikes only
Contact Details
Atalaya Golf & Country Club
29688 Estepona, Málaga
Tel.: (+34) 952 882 812
Fax: (+34) 952 887 897
info@atalaya-golf.com
www.atalaya-golf.com
---